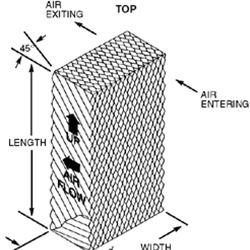 Bon-Aire Media Pads - FREE SHIPPING!
Energy Saver's Bon-Aire evaporative media pads are made with the highest-quality, virgin kraft paper for maximum performance and consists of alternating corrugated sheets having two different angles
.
The 15 degree angle slopes downward towards the inside of the cooler. The steeper 45 degree angle should slope downward towards the air entering side of the cooler.

NOTE: New pads may have a slight "start-up" odor. This odor occurs from the dust created during the manufacturing process.
THIS ODOR IS NOT TOXIC AND IS NOT HARMFUL!
To reduce this, the media should be washed for several hours by running the pump without any airflow through the pads. Drain the water pan, refill with fresh water and start up the system. This procedure also helps the wetting ability of your new pads. The odor will dissipate over time.

Replacement media is supplied in multiple sections and may not fit as tightly into your evaporative cooler as the original pads. Using Styrofoam panels at either end of the pad assembly can make up this difference.
IMPORTANT:

Cooler media MUST be installed correctly or the air will not be cooled as much as it could be and water could be pulled off the media getting the duct and ceiling wet
Evap. Cooler replacement media, 40" x 23" x 8"
Supplied in multipule sections
Special Introductory Price:
$125.00