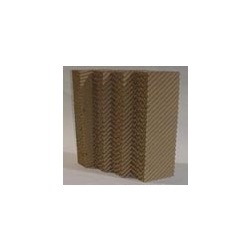 Custom Cut Evaporative Media Pads - FREE SHIPPING!
Evaporative media pads are custom cut to your exact size, at no additional charge. Energy Saver's OEM quality, evaporative media pads are constructed with the highest-quality, water saturating, virgin kraft paper that has been impregnated with thermo-setting resins for maximum performance. The alternating, mechanically corrugated sheets form a dual angle, cross-fluted design yielding optimum mixing of air and water for maximum heat and moisture transfer

The 15 degree angle slopes downward towards the air leaving side. The steeper 45 degree angle should slope downward towards the air entering side.

NOTE: New pads may have a slight "start-up" odor. This odor occurs from the dust created during the manufacturing process.


THIS ODOR IS NOT TOXIC AND IS NOT HARMFUL!

To reduce this, the media should be washed for several hours by running the pump without any airflow through the pads. Drain the water pan, refill with fresh water and start up the system. This procedure also helps the wetting ability of your new pads. The odor will dissipate over time.
(800)663-4092 Toll Free, (602)233-2033 Fax
Replacement media custom cut to your specific sizes at no additional charge.
Call to order - xxx-xxx-xxxx